Memories & Condolences, Prof. Makoto Nagao
We regret to inform you that Prof. Makoto Nagao, former President of Kyoto University, passed away on May 23, 2021. We all pray for his soul resting in peace.
We would like to thank all of you who sent us your memories, episodes and photos of your time with Prof. Nagao.
Messages and photos
Prof. Christian Boitet (University of Grenoble Alpes)
First, I would like to express my deep condolences to Nagao-sensei's wife and daughter, whom I met in 1993 during a one-year sabbatical at ATR, at their home in Hirakata. I was devastated when I received the very sad news of Prof. Nagao's demise from Prof. Tsujii. I have so many nice memories from Prof. Nagao, beginning in the spring of 1971. He came back to Grenoble 2 years after he had spent a postdoctoral stay there for a year, doing research on MT with Prof. Vauquois at CETA, and teaching a Master course in CL in French and English at Grenoble University — he really learned French but speaking in front of students was difficult, he said. I think he had been introduced to Prof. Vauquois by Prof. Sakamoto, who himself had spent some time in Grenoble around 1965.
When Prof. Nagao came in 1971, it was for a short visit, but he made a very strong impression on all researchers, seniors as well as total beginners like me and others who did their Master at the time. In a way, he introduced AI to us, in a brilliant way. He had not only been doing research on MT (one of the last in Japan, like Sugita, before MT research in Japan went to sleep for more than 10 years because of the ALPAC report), but also on Computer Vision ! I met him also a few months later, at COLING-71 in Debrecen (Hungary), and he encouraged me to continue on MT and spend my first doctorand's year at TAUM in Montréal, where Prof. Vauquois himself was to spend a sabbatical year. Nagao-sensei then continued to visit our lab regularly, and of course to come to the COLINGs.
Then he organised the first COLING in Japan, in 1980. I could take part in discussions with him, Vauquois, Karlgren, Kulagina & other ICCL members about the future of 2nd and 3rd generation MT (based on specialised languages, and on some "world knowledge", or "gnosto-encyclopedic knowledge", as Igor Mel'khuk put it), and about how to organise real projects of sufficient size to become proofs of concept. Our 2 labs were actually organising a "MT national project", one in Japan (MU-project) and one in France (PN-TAO), which covered roughly the same period (1982-1987).
The principles of these 2 projects were quite similar, probably because of a lot of previous fruitful discussions, and certainly also because Tsujii-sensei was sent by him to spend a 9-month postdoc stay in Grenoble, in 1981-82, exactly at the time where the scientific and technical aspects of both projects were specified.
I remember 3 very important contributions by Prof. Nagao during the MU-project: (1) the way to organise such a large R&D project, far better than in France, with several (about 15!) large companies taking part in building various parts of the system, and using the experience gained in MU at Kyodai to build their own systems "at home" in parallel, (2) the realisation that, even if translation goes through "deep" linguistic tree structures using semantic relations and attributes, thought to be common to all languages, there has to be some "semantic transfer" beyond lexical transfer (in short, arguments of predicates almost always correspond in a language pair, but they often bear different semantic relations), and (3) the proposal to obtain more "natural" machine translations by relying on analogy (1984) – the basis of future "empirical" MT systems (example-based, analogical, statistical, neural).
In the following years, Prof. Nagao became a personal friend and not only a (most respected) colleague. He invited me for 2 weeks at his lab in August 1983 (during a 2-month stay at KDD Tsujii-sensei had kindly arranged), then to the first post-COLING workshop in 1984 at Xerox Park (to plan the future of MT), and to his house in Kansai, when I spent a full year at ATR near Nara in 1992-93. I then met with his very kind wife, pianist and piano teacher.
What Nagao-sensei produced and organised in his lifetime is incredible. He rose from head of Nagao lab to become the director of Kyodai Library, and computerised it, introducing new methods for information retrieval based on the content of abstracts and the structure of tables of content. He started the MT-summits by organising the first "MT summit" in Hakone (in 1987), coordinated the production and publication of the GoiTaikei, and organised his second COLING in Japan at Kyoto, in 1994, on the 800th anniversary of Kyoto as an imperial city.
About the time, he became President of Kyodai, and then also President of the consortium of imperial universities, managing to locate and organise a second campus for Kyodai. His organising and planning capacities were really extraordinary, and he put them at the service of the development not only of MT but of CL and NLP, in Japan and internationally.
Having been an adviser for ATR for years, he became director of NiCT, which "integrated" ATR when its former organisation came to an end (ATR-I + several private project-based ATR companies, kabushikikaishas, like ATR Interpreting Translation). NiCT augmented its activity in building and distributing corpora and dictionaries, and produced VoiceTra to enable conversations in 27 languages on smartphones (using the Cloud).
Finally, for the last part of his official career, Prof. Nagao accepted the direction of the Diet's Library (the equivalent of the Library of Congress in the US). Here again, he demonstrated his unique capacities, by setting up an MT system, with the corresponding libraries in China and Korea, to enable access to their full documents (not only to the abstracts, which had been his goal during his PhD) in Japanese, Chinese, Korean and English.
Let us remember Prof. Nagao, his many achievements, and his kindness, which he continued to demonstrate even when he rose to very "elevated" positions. He was not only brilliant, imaginative, and efficient, but also a very wise person, meditating every day while doing calligraphy. Let us wish him eternal peace.
Prof. Eva Hajicova (Charles University, Prague)
My professional memories go back to the late sixties and the connecting link (although at a distance) was Grenoble and Professor Bernard Vauquois, whom the then young Makoto Nagao visited as a research fellow, and, topic-wise, machine translation and dependency grammar for the study of which Grenoble was the right place to go. As both the MT and DG communities were rather scanty and the publications shared (and not numerous so that actually easy to get aware of and really studied), we so to say knew about each other. The more so that DG formalism was the core of our Praguian approach to language description. Of course, the iron curtain did not make it possible for us who were living behind it to meet in person.
My personal memories go back to the beginning of the eighties, when I had the unique opportunity to attend COLING 1980 to propose Prague as the location and our University as the organizer of the next COLING in 1982. The congress was in Tokyo but I knew that a place to visit is Kyoto and that Professor Nagao, the congress organizer, comes from Kyoto. So I dared to address him with a question (a silly one, I thought, considering the distances) whether it might be possible to use the day reserved for a conference visit to some place developing or producing robots for a trip to Kyoto. He looked at me with what I took as a delighted face and just nodded asking me at which conference session I would be sitting after the break. And in about 15 minutes a young assistant came to the room and quietly with a bow passed over to me a piece of paper. On this small slip there was everything: the departure of the shinkansen train to and from Kyoto, the places to visit on foot after leaving the train in Kyoto, the time and place of the departure of a (reserved) sightseeing tour to Kiyomizu-dera temple stopping also at the fashionable Souvenir Store, and describing the way from the store back to the railway station. All this was possible to cover from 6 a.m.till 10 p.m., including the view of Mount Fuji on the way. Incredible, indeed – perfectly organized, doable and unforgettable experience. For me, that was my life experience, though I had the pleasure to return to Kyoto several times after then on Professor Nagao´s invitation. And I more than anything else enjoyed the numerous face-to-face meetings with Professor Nagao in person, be it in Prague or in other localities.
Professor Makoto Nagao will be always remembered as a great scientist, an efficient leading member of the research community, and a great personality. R.I.P.
Prof. Yorick Wilks (University of Sheffield)
I first met Professor Nagao at his visit to the University of Essex about 1979 and we met many times later through ICCL and in England and Japan. My last dramatic memory of him was a visit to the University of Sheffield about 1995 when he came on an official Japanese mission to survey foreign methods for assessing University research. Official meant he travelled in a UK Foreign Office car with a flag on. I told the Sheffield Vice Chancellor that the Rector of Kyoto was coming and would he like to meet him officially? He said of course and planned a dinner at his house, after which he wanted to have a quiz which he always did with guests. I thought this a very inappropriate idea and might be embarrassing for foreign guests. How wrong I was. Nagao was made captain of one team and some Sheffield Professor the other. The questions were often ingenious, like putting inventions in the right time order. Professor Nagao took to the quiz with huge enthusiasm and his team won! Next day he kindly agreed to come and talk with my grad students in NLP. One, who knew little of his work, foolishly asked what Nagao thought of example based MT, which he had effectively invented. Nagao was all magnanimity, did not make the student look stupid, and said that he still thought the idea had great promise.
Prof. Junichi Tsujii (AIRC, AIST)
Prof. M. Nagao was my long time mentor, since I was an M.Eng student at Kyoto University. I worked with Prof. Nagao as a student, research assistant and associate professor for 17 years. His strong leadership brought success to several projects, notably the MU project (1982-1986), which delivered the first successful example of a second-generation MT system. He was an independent thinker and pioneer who initiated creative research in image understanding, natural language processing, machine translation and digital libraries. Working with him inspired me and largely formed my view on research, language and natural language processing.
I have many happy memories of trips with him to France, the USA, Russia, Canada and China. I remember vividly the trip to France, on which he was accompanied by his wife and two daughters, and our discussions about life, arts and research during this trip. I was staying in Grenoble, and we spent a memorable week together.
The memories of time spent with him are precious treasure for me. Without him, my life would have been very different. R.I.P.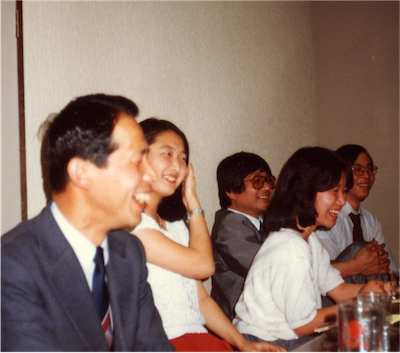 Professor Nagao with members of the MU project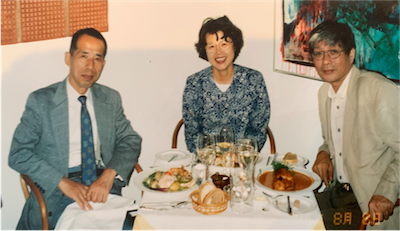 Professor Nagao and his wife, Copenhagen, Coling 96
Prof. Dosam HWANG (Yeungnam University, Korea)
At first, I like to express my deepest grief.
For the first time, I saw (not met) Prof. Nagao who gave his invited speech at my KIST (Korea Institute of Science & Technology) around in the early 1980's. At that time, there was no one who did not know his name, Professor Nagao if the researcher was studying NLP in the world. His research activities has influenced to NLP research in Korea so much.
A phrase, "~ under the guidance of Prof. Makoto Nagao", has been still described in my homepage since I graduated. Prof. Nagao is the first one of only three persons who I have used a word, "respect (sonkei)" for, in my life. His book for his retirement commemoration (the party at the below picture) has been located at the top of my bookshelf. My deepest respect and appreciation will be inscribed forever in my spirit and mind.
I like to express my sincere condolences and sympath to Okusama and go Kazoku and the promoters of a memorial service, and all who remember professor Nagao with my modesty.
Nagao Lab OB
Dosam Hwang
Professor
Yeungnam University
KOREA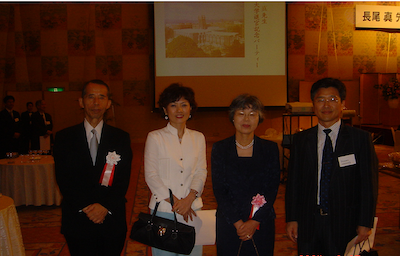 Prof Nagao's retirement commemoration party, 1998.